The Visual Novel Reading Room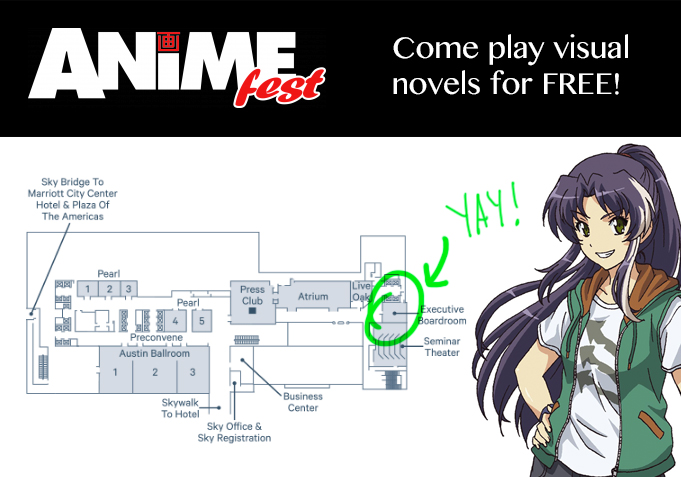 Hey AnimeFest-goers! Thanks for stopping by the Visual Novel Reading Room! We had a great time with you guys this year, and we hope to see you again next year. If you enjoyed your time in the room, please be sure to let the con know that you'd like to see it return!

Here are the visual novels from the 2018 room:

Backstage Pass - Lights, camera, romance!
The glamour and glitz of showbiz hold little appeal for Sian. As the daughter of a professional makeup artist, she knows how stressful and uncertain work can be, and she aspires to something more stable. When a sudden accident topples her plans for a smooth college life, she realizes she must put her own makeup skills to use if she wants to make it through the year. The entertainment world may be wild and unpredictable, but Sian's about to learn there's also a lot to love.

Corona Borealis - Just a summer job, or will it turn into something more?
June is forced to spend the summer working in her father's quaint country cafe, far away from her urban home. Will sparks fly with the dutiful barista or the bubbly cashier? Or perhaps she'll mend the strained relationship between her and her quirky father. One thing is certain: with each passing day, June is finding herself more and more charmed by the intoxicating mystique of the Southern town and its residents. Corona Borealis is a stat-raising otome VN produced by Winter Wolves. Rather than simply provide the player with romance options, it aims to explore the depths of non-romantic relationships, too.

The D (Stands for Demon) - A rich inner life is an understatement.
Stella shares her mind with an ancient, otherworldly being, something entirely unlike anything else in the material realm, with primal desires that could rip them both apart. Her name is Rose. And Rose is annoyed. Even in their world of elves and magic and dragon people and crap, to have an Other is altogether too strange, so Stella would rather keep their condition under wraps. This means no credit to Rose for their career advancement and practically no say in their romantic partners...of which there are far too few for Rose's liking. But hey, Stella's comfortable with her lack of sexual and romantic attraction. Why can't Rose be? A telepathic odd-couple, living their life and looking for love in all the...just...regular places?

Hart Connection - When communication is key.
The Hart Mercenary Company has a job. Escort an elven prince across country. Easy enough for the well-trained members of the mercenary guild. You'd think... When things start going wrong and going wrong fast even these seasoned professionals are stymied. A number of language and communication barriers certainly don't make the whole thing easier. Will they make it to their destination in one piece?

Jisei - "I can relive the dying moment of any corpse I touch."
A teenager with no name and no home wanders from one city to the next, burdened by the weight of his extraordinary ability. When he is accused of murdering a woman that he's never met, he sets out to prove his innocence and find the true killer. The investigation quickly takes a turn for the complicated when a strange voice appears in his head, warning him to watch his step. Every word has a hidden meaning. Every suspect has a secret. Search for clues, interrogate the witnesses, and unravel the mystery before it's too late.

Perceptions of the Dead 2
Three months ago, Jill learned ghosts are real. Now she has to save the only Acolyte who can help her live in a world of the dead. In October of 2017, Jill Count held an IRL streaming event from within the haunted hospital of Saint Heart. The events there left her forever changed and able to now see ghosts. Haunted by the ghost of a young man she met there, Jill travels to find Tyrone, hoping he can help her. Finding him missing, she is quickly roped into helping save him. Little does she know what she is actually walking into.

Rising Angels Hope
Rising Angels: Hope is the story of Faye Moonfallow, her squad of somewhat loveable misfits, and their dreams of joining the Katajion Space Force. However, before they can get there, they have to first pass the rigors of the Space Sector Academy. Life is rough, non-stop, and the danger of getting the boot is ever-present. Can Faye and her squad overcome the challenges posed to them or will the group destroy itself in chaos? Each day is an adventure as the young researcher tries to find her new place in the galaxy.

The Shadows That Run Alongside Our Car - Two people in a car during the zombie apocalypse.
The road is long. Two strangers sit side by side as night falls over. The car speeds down the open highway. Without a soul around them, everything seems to slip away. On a journey to no one knows where, all they have is words and time. And that time is dwindling fast. The shadows are chasing.

Without a Voice - An antique tale of love, tragedy, and the mysterious circumstances of two women in the woods.
An exiled princess's quiet life is thrown into disarray when when she meets a mysterious woman deep in the woods, beneath the boughs of a wisteria tree. Love blossoms upon the choking vines of tragedy, as two twisted pasts intertwine in this interactive fairy tale.